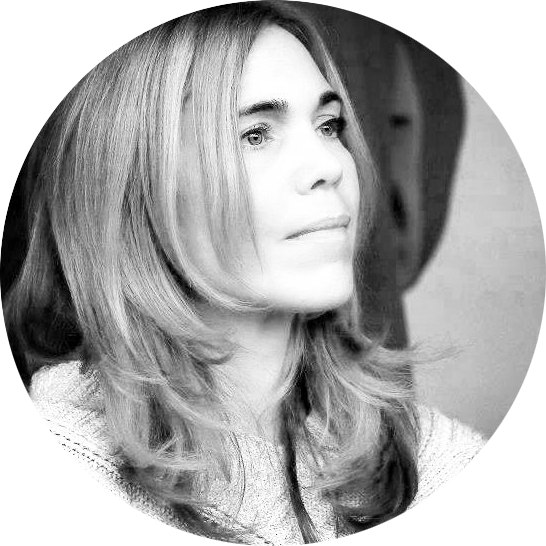 Judith Sturm was born in 1973 in Saarlouis, southwestern Germany on the border with France and Luxembourg. She lives and works in Berlin, Porto Cristo and Vienna.
Two stays in the USA, in 2006 and 2008 in the printing workshop of the well-known master printer Erika Greenberg-Schneider in Tampa/Florida, have had a decisive influence on Judith Sturm's graphic work. In 2005, the master student of Prof. Baumgarten developed her own style of painting: INFORMAL REALISM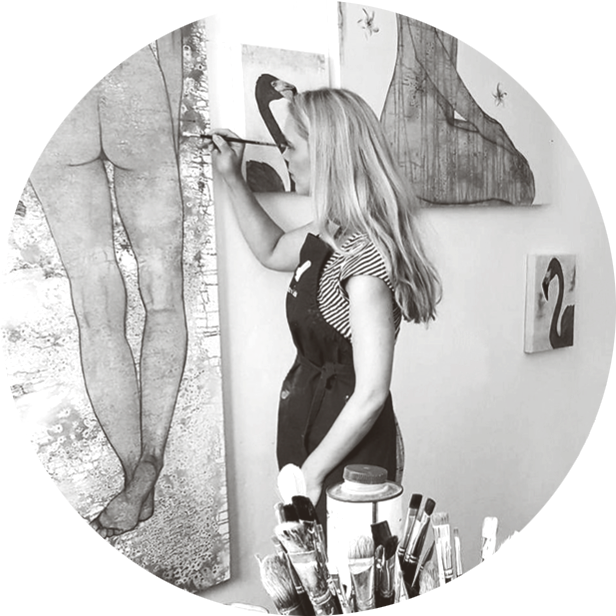 Dr. Peter Funken, Berlin on Judith Sturm's work.
In their poses, the bodies of young women and men depicted by Judith Sturm appear seductive, almost erotic, yet their images simultaneously deal with injury and damage. Not only is their skin reddened, the figures also lack their heads, and due to the compositions and image cuts, other body parts are not depicted either. The permanent headlessness is a reduction consciously staged by the artist, which directs the gaze to the bodies - to curved hips, breasts, and slender legs - as well as to tightly fitting briefs, bikinis, and T-shirts, which certainly emphasize an erotic, self-confident radiance.
However, the flesh-colored parts of the bodies are not only recognizable as skin surfaces, but in many works they form the lower layer of the painted canvas; only in later steps does the artist cover them with further colors, but the differentiated pink and salmon background remains translucently recognizable. It is a form of non-representational painting, a treatment of the picture surface with liquefied paint into which salt was sprinkled, which later suggests the irregular reddening of the skin surfaces. This gives Sturm's works a special painterly liveliness, which formulates a contrast to the linear, outline passages in the body representations - and thus a strangeness in the thoroughly familiar. One could say - to speak with Dylan Thomas - that this type of painting is, among other things, also an "adventure in skin matters".
Training, prices, trade fair participations and collection purchases
2021  Private Collection, Roth Estate, New York
2020  EM Design Award, Hats, London
2019  Curator for the Kinsky Collection
2019  Curator of the Palma Hat Week Exhibition
2018  Kinsky Collection, Vienna
2017  Private scholarship "Artist in Residence" in Manacor, Majorca
2017  Art fair "fig bilbao" in Bilbao, Spain
2015  Kinsky Collection Vienna/Berlin
2014 since  2014 successful auctions in the art auctions "Im Kinsky" in Vienna
2014  Collection DHK Vienna
2013  Participation "Macht Kunst" Kunsthalle by Deutsche Bank Berlin
2012  art fair Artstage Singapore - ft Berliner Kunstkontakter
2009  Participation in the cultural project "Insight vs Outlook" Hangzhou and Shanghai/China
2008  and 2006 Artist in Residence (monotype/etching/linocut) in Tampa
2008  and 2006 art fair Bridge Art Fair in Miami/USA
2007  Participation and nomination art award Robert Schuman Trier
2007  Villeroy & Boch Merzig collection and Villeroy de Galhau collection, Vaudrevange
2006  Individual funding from the Saarland Ministry of Culture and admission to the collection
2000  Scholarship of the state capital Saarbrücken
2000  Diploma in Fine Art / Painting and Objects at the Hochschule der Bild. Arts Saar
2000  Master of Arts - master student of Prof. Bodo Baumgarten
1999  Culture Prize of the City of Saarlouis
1998  Deutsche Bank Culture Prize
1995  Artist in Residence (watercolour) at Kilmurry House in Thomastown/Ireland
1994 –2002  Art studies at the Hochschule der Bildenden Künste Saar under Prof. Wolfgang Nestler & Prof. Sigurd Rompza, Masterclass - Prof. Bodo Baumgarten
1994  General High School Saarbrücken
Exhibitions (selection)
Solo shows
2021 "walk by the sea" Gallery Studio25 in Artà, Mallorca
2019 "informal realism" Gallery atKinsky, Porto Cristo, Mallorca
2017  "Insights" Gallery Arte Casa, Port Andratx, Mallorca
2015  "Mesocosmos" Gallery2, Berlin
2014  "Hautnah und Geheimnisvoll" German Chamber of Commerce Vienna
2012  "Pin up!" Women's smithy Neukölln, Berlin
2011  "Awake!" Room 82, Berlin
2009  "Paperdolls" Gallery Artbalance, Hamburg
2008  "Views" Kunstverein Sulzbach
2006  "Watercolors and Monotypes" Gallery Bleu Acier, Tampa
2006  "Le singulier du féminin" Gallery Nicole Buck, Strasbourg
2004  Gallery 48, Saarbrücken
2002  Gallery 48, Saarbrücken1
1999  Gallery water and bread machine, Saarbrücken
1998  Gallery 48, Saarbrücken, Germany
Group shows
2021  Galerie Art42 - Karlsruhe
2019  "Grand Opening", AtKinsky - Pastelleria del Arte, Porto Cristo, Mallorca
2019  Palma Hat Week "Summer Chic", Palma, Mallorca
2018  "Grand Opening" Gallery Arte Casa II, Port Andratx, Majorca
2014  "4 Books " Kunstverein Cuxhaven
2013  "Kunst(stoff)" Gallery Basement, Vienna
2013  "Macht Kunsthalle Deutsche Bank, Berlin
2012  "Relic" Tufa Trier
2012  "Avril Contemporain" Espace des Blancs Manteaux, Paris
2011  "Luxury body" 48 hours Neukölln, Berlin
2010  "Black and White Pink Red" Room 82, Berlin
2010  "Angezettelt" Artist House, Saarbrücken
2009  "Colours and Forms" Saarl. Gallery Europ. Kunstforum, Berlin
2009  "Art Venture" Gallery Miejska BWA, Bydgoszcz, Poland
2009  "Insight vs. Outlook Gallery 1918 Artspace, Shanghai
2008  "New Prints and Paperworks" Gallery Bleu Acier, Tampa, Florida
2007  "Prix d'Art Robert Schuman" Museum Simeonstift, Trier
2007  "New Editions" Gallery Bleu Acier, Tampa, Florida
2007  "Colour and Form" Museum Haus Ludwig, Saarlouis
2006  "Entre Chien et Loup" Gallery Bleu Acier, Tampa, Florida
2004  Gallery 48, Saarbrücken
2002  Kunstverein Iron Tower, Mainz
2000  "Landeskunstausstellung" Museum St. Ingbert
1998  "Malersommer in der Alten Völklinger Hütte", World Heritage Site Völklingen
1995  Kilmurry House, Thomastown, Ireland